SITE CLOSED. PORTFOLIO PIECE ONLY.
Hallmark Timbers is a family run business set up to promote the better use of locally grown timbers many of which exhibit great character, and to thereby encourage the sustainable and sensitive management of our local woodlands.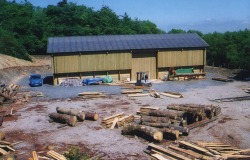 The business has been developed by close cooperation with the Duchy of Cornwall as they share many of our views regarding woodland management and the need to make better use of locally grown timbers. They are both a valued customer for our products and services, and supplier of "certified timber". It is our intention to work closely with the Duchy to encourage local people to develop craft skills and utilise the local timber resource responsibly.
We also work closely with a number of contractors, craftsmen and artisans who share our views regarding woodland management and the utilisation of naturally beautiful timbers.
NewsFlash We are now producing our own solid wood flooring, made to order. Contact us for a quote, you will not be disappointed!
We produce, and are agents for, Kiln dry hardwoods, air dry hardwoods and a range of timber products and related services, see our products and services pages.
If you don't see any menus on the site or the title images, please download the latest Flash plug-in.